Ok so everyone is asking me (specially my brother) that how come my nails are not stained or ugly after constant chemical exposure? As you know, I've been changing my nail polish almost everyday for the 31 Day nail art challenge. In such circumstances it's difficult to keep the nails healthy and stain proof..that's when a base coat come to my rescue..so what is a base coat? keep reading..
What is a base coat?
Base coat looks very similar to clear polish,but it's not the same! A good quality base coat helps your nail polish to stick to your nail. Base coats are enriched with vitamins like vitamin E or calcium or other proteins,which keeps your nails healthy and prevent them from chipping and breaking.
Sometimes if you apply a dark nail polish like black, you will see that your nails are stained by that particular color, Or sometimes a yellow stain is very visible! Such stained nails look very ugly! Imagine you want to do a french manicure and the white tip looks yellowish..ewww!!Base coats are really very helpful to prevent such staining as they form a protective shield between the nail polish and the nails.
Also if you have uneven nails,it will create a smooth surface to give you a perfect manicure!
How to use a base coat?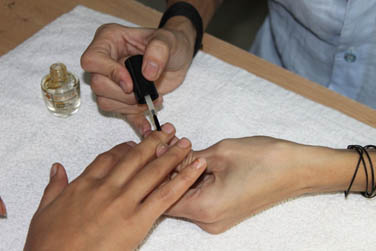 Base coat is to be applied on your nail before any layer of nail polish. Just apply a single coat like any other regular polish and allow it to dry. Base coat dries really quickly so you don't need to worry about wasting time. After its dry apply your favourite nail polish

To remove use regular nail polish remover or acetone,whichever you prefer.
Where do I buy a good quality base coat in India? How much does it cost?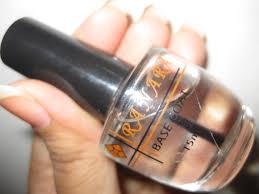 Unfortunately,base coats are not easily available in India!Especially offline! I've been to almost every beauty shop in Mumbai but all the gave me was clear polish! *angry*
I am currently using a Ranara base coat which works really well for me! You can purchase it here. I purchased it online for Rs. 300 with no shipping charges and cash on delivery

One bottle will last a long time

It's better if you do this in a well ventilated room!
Is a base coat really necessary?
If you ask me, I would say YES! Earlier when I started with my nail art passion,I never used a base coat. So my nails became very brittle and yellowish. That's when I did a lot of research and finally purchased a base coat for myself. After a single application, I started to observe the difference! Now I never do a nail art without applying a base coat

If you can spend a lot of money on skin care then why not so little on nail care?
Is there anything in particular you would like to know about base coats? Have I missed something? Let me know in the comments section below