Tribal Print Nail art (also known as Aztec nail art) is very trendy these days! I was excited when I found out it was the 16th challenge of the 31 day nail art challenge! It is one of the nail arts which looks very difficult to do but is actually very easy! Don't believe me? Check for yourself!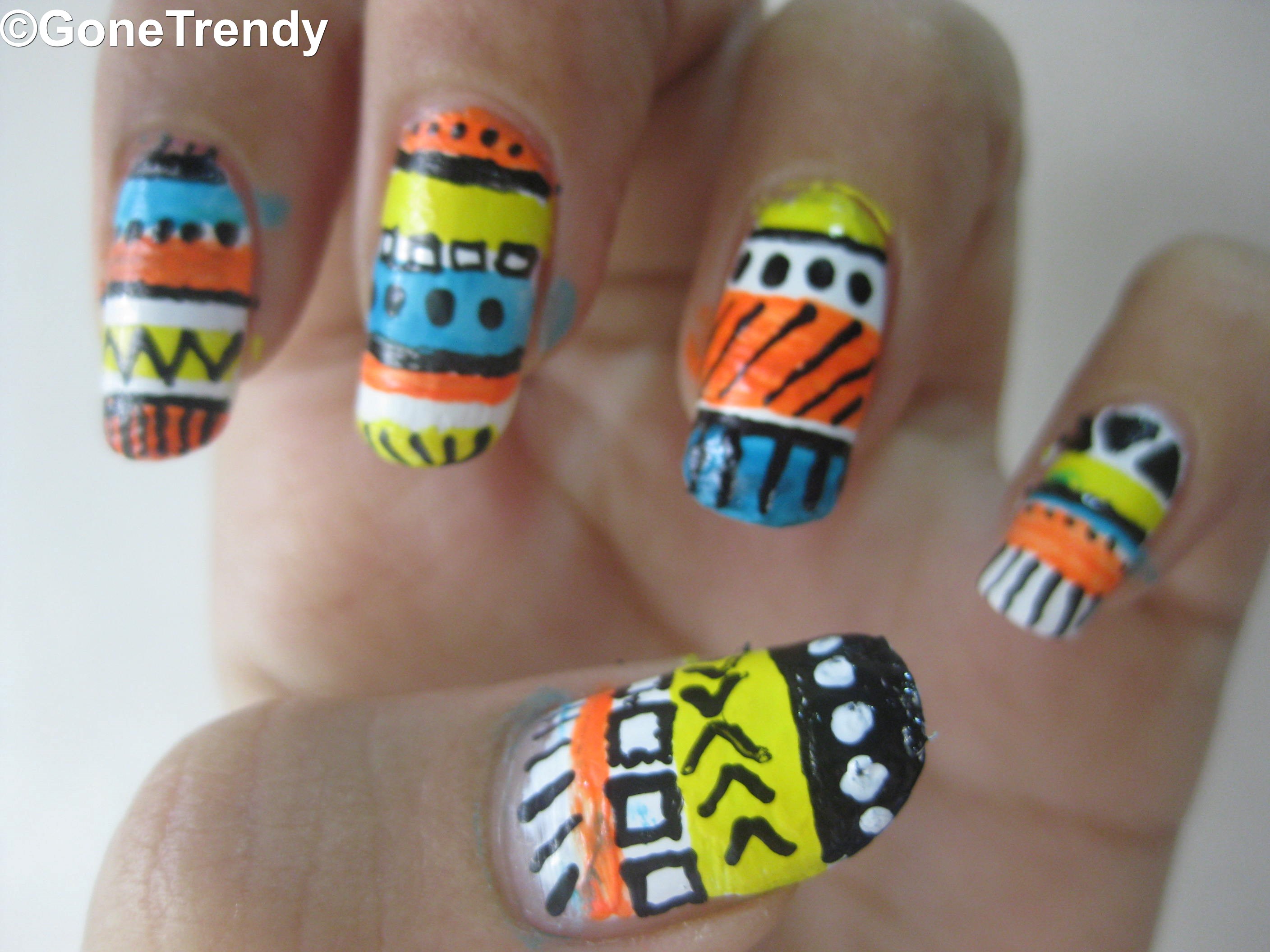 Products used for this nail art:
1. Maybelline coloroma Prata nail enamel.
2. Express Finish 865 Blue Canard/Turquoise.
3. Lakme absolut Orange squash.
4. Lakme Fast and fabulous sunshine yellow 30.
7. Black Acrylic paint.
8. Toothpicks.
9. Striper Brush.( You can use a paint brush if your don't have striper brush)
Let's begin!
Apply base coat to protect your natural nails.
Step One: Apply two coats of white polish and allow it to dry.
Step Two: Make different sized Stripes across the nail using a brush dipped in orange polish. Some stripes can be thick some can be thin. It all depends on which color you want in your tribal print nail art.
Step Three: Similarly draw more stripes of different sizes using yellow and blue nail polish.Allow to dry.
Step Four: Do a few black line using acrylic paint. I have used acrylic paint instead of a regular black nail polish because it gives me much more control. And its easier to do little detailing with acrylic paint. You can also use black nail polish if you wish.( Secret: I've painted black lines where my colored stripes were not very crisp. This gave me a chance to hide my mistakes 😛 )
Step Five: So random dots,lines, square triangles,zig-zag lines,arrows or any other tribal design you wish to do with the help of a toothpick dipped in black acrylic paint. You can get really creative here! Draw anything you like!!
Step Six:Apply a fast drying top coat to finish your design.Don't forget to clean around the nails for a neat and perfect manicure!
I wore this nail art with my beach print dress

It looks so good.. I just don't wish to remove this nail art!
Do you like this nail art? Do you have any suggestions or is there any particular nail art you would like me to do?